Sometimes we can do bad work that gets published, and other times we can do good work that never sees print. This is the later.
I was asked by iRun Magazine to produce some images showing this years big running shoe releases from Adidas, Ecco, Merrell, Mizuno, North Face, and Salomon; with a note to pay special attention to the treads. A suggested method of capturing this was to hang them all on a clothing line and photographed them laced up and dangling in the air. I said "No."
What I did do was came up with a very simple product table using things I had lying around. I stuck a 580exII flash into a giant silver reflector (added a Pocket Wizard to trigger it), put some diffusion fabric over that to create a white background and put some glass from an old picture frame on top of that. Once I had the table, I just had to add something overhead to light the product.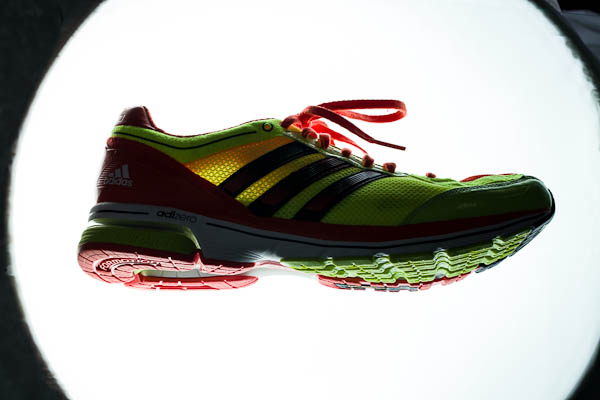 A softbox above the shoe, angled back down to the sole helped light the top of the product, and here and there I used some white card stock to bounce light back onto the tread where it was getting too dark. Sometimes a simple two-light setup is all you need.
I used this for a side photo of each shoe, and again an overhead shot. 15 Shoes, 30 photo, plus some time in Photoshop for each to completely white-out the background and add some tonality back to the products, but in the end, none of it went to print. It's okay, though, that's what editors do. Not everything I work on will be printed, or printed as I had envisioned but it's still nice to show off a few days worth of work.
You can see a much larger version of this image over on Flickr.